News
other News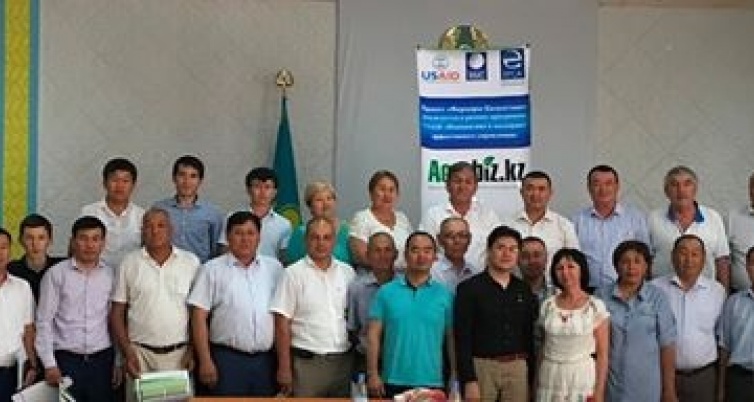 June 26, 2017
Business portal "agrobiz.kz" was presented to the farmers in South Kazakhstan
On June 12-13 seminar-trainings titled "Agrobiz.kz - a new opportunity for interaction and development of agribusiness entities" were held in Arys and Saryagash towns of South Kazakhstan oblast.
The first Kazakhstani agro-portal www.agrobiz.kz was presented to the participants of the training-seminar. This agro-portal was developed within the framework of the "Good Governance Initiative Fund" project with the financial support of USAID.
The possibilities of using the agro-portal as a resource for free ads and for attracting potential buyers of their products aroused keen interest among farmers and representatives of agrarian enterprises. Representatives of district and rural akimats, agricultural departments of Saryagash and Arys rayons were interested in the portal's ability to effectively communicate with farmers saving time and financial resources. In Saryagash rayon, 71 people took part in the training-seminar (38 of them representatives of district and rural akimats, 33 representatives of farms and agricultural enterprises).
The number of participants in the Arys district was 41 people (18 - representatives of state bodies, 23 - representatives of farms and agricultural enterprises).
"Local websites are needed to support local production," - said the head of the agricultural department of the Saryagash rayon, N. Talipov. 
"We considered various mechanisms for selling our products in the northern and central regions of the country no later than our neighbors from Uzbekistan. The functions of agrobiz.kz took into account all our problems and thoughts. Now, we have the opportunity to promote our products through the Internet, and whether to use this opportunity for business is up to us",- he added.
"There are more than 1,400 farmers in the Arys rayon. However, we can't be constantly in touch with them. First of all, we want to provide the inhabitants of the city with the products of our farmers, and I think that the work of agrobiz.kz needs to be promoted among the citizens. To support the farmers is to consume their products instead of foreign ones", - said deputy akim of the town of Arys, Sapar Daribai.