Фонд евразия центральной азии
в казахстане
Подпишитесь на наши новости:
Youth and Education
Construction of a Kindergarten in Ust-Kamenogorsk for 140 Children
Дата начала: 10/31/14
Дата завершения: 12/31/16
Общая информация о проекте
Project Justification:
The decision to build a kindergarten was based on desk research conducted by the Eurasia Foundation of Central Asia in 2010 through a commission by the AES Group of Companies in Kazakhstan; research methodology included the following:
analysis of legislation;
consultations with the Department of Education of Ust-Kamenogorsk (Head of the Department of Education A.A. Kuznetzov and Senior Specialist for Preschool Education G.R. Abdulina);
interviews with the directors of two private and three state kindergartens;
telephone-based market survey for preschool education in Ust-Kamenogorsk;
analysis of standard and non-standard building plans for small and large kindergartens.
The results of the research confirmed that there is an acute shortage of kindergartens and rapidly growing demand among the population of Ust-Kamenogorsk for preschool education. For this reason, the EFCA research team explored multiple opportunities for opening new kindergartens. They determined that opening small-scale kindergartens is not currently a realistic response to the increasing demand. At the same time, the opening of large-occupancy kindergartens carries a number of benefits, including:
large social impact (compared to small-occupancy kindergartens);
kindergarten sustainability (large kindergartens are more profitable, and thus do not require external financial support)
Note: Mid-term research results are available below (attached file).
For these reasons, the AES Group of Companies in Kazakhstan decided to pursue construction of a large-occupancy (140-place) kindergarten in Ust-Kamenogorsk.
---
Project Goal:
Build a kindergarten in Ust-Kamenogorsk for 140 children.
---
Project Objectives:
Identification and registration of land for kindergarten construction.
Development of design and cost documentation for kindergarten construction.
Identification of a contractor to manage construction.
Transfer of kindergarten for 140 children to state ownership.
---
For additional information, please contact:
Project Manager: Andrey Bachishe, EFCA Project Specialist, tel.: +7 (727) 250 18 10, ext. 105, mob.: +7 777 525 74 63, e-mail: andrey@ef-ca.org
---
Проект в СМИ
"Группа компаний AES построит новый детский сад и передаст его в дар городу", Информационный портал: "1720.kz", 18 февраля 2015 года
---
Доноры и партнеры проекта
---
Ресурсы и файлы проекта
Промежуточные выводы по исследованию возможности открытия детского сада в г. Усть-Каменогорск (2010 г.)
скачать
| pdf mb
Покaзать все файлы проекта
География проекта
---
Видеогалерея проекта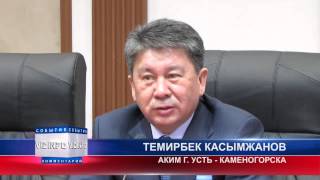 Поиск по проектам
Другие проекты этого направления
The project aims to increase the level of education and upbringing process in four schools and colleges of Kuryk village.
Подробнее